Schlumberger Launches Production of Equipment for Production of Liquid Hydrocarbons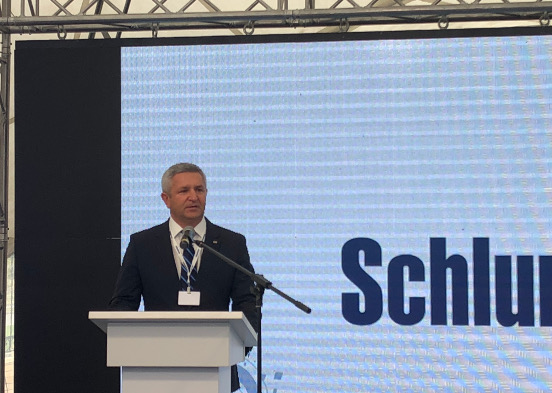 On 25 September 2018, Schlumberger inaugurated a new plant to set up production of components for electric submersible pumps in the Lipetsk SEZ. The inauguration ceremony was attended by Alexei Besprozvannykh, Deputy Minister of Industry and Trade of the Russian Federation, Oleg Korolyov, Governor of the Lipetsk Region, Ivan Koshelev, General Director of the Lipetsk SEZ, and representatives of oil field operators. Schlumberger was represented by President of the Mechanized Mining Division Sherif Shokhdi, President of Schlumberger Russia and Central Asia Gökhan Saig, Vice-President of the Mechanized Mining Division in Russia and Central Asia Anatoly Markov, and General Director of REDALIT Schlumberger Dmitry Nazarenko.
Schlumberger's mission is to provide its international and Russian customers with efficient technologies at a reasonable price. This is achieved through local development and production of oil field equipment tuned to the local conditions in full compliance with quality and cost efficiency standards.
Schlumberger started its operations in Russia back in 1990, and since then it has accumulated over 30 years of localization experience. Since its first days the company creates hi-tech jobs and goes into strong partnership with the leading universities.
With its divisions in Russia's Perm, Tyumen, Novosibirsk, Tomsk and Sterlitamak, the company now designs and produces advanced equipment and systems for oil and gas industry. It supplies Russian and international customers with over 60,000 product items, including rotary steerable systems, slurry blenders for hydraulic fracturing units, well logging equipment, and software.
The main task of the Lipetsk plant is to substitute imports and support Schlumberger's mechanized mining operations in Russia and Central Asia by supplying components for production and maintenance of electric submersible pumps. The project with the total investments of RUB 3.8 billion was approved in late 2015. The construction started a year later.
The production facility features an automated manufacturing system that ensures high production efficiency and high quality of the finished products. With these automated manufacturing solutions produced by joint efforts of 20 leading hi-tech manufacturers from 12 countries, Schlumberger managed to take a leading position on the global market. Such solutions in combination with the company's ERP system form the foundation for the deployment of Industry 4.0 systems and make it possible to reach 100% localization of ESP production at the company's facility in Tyumen. The company contributes with this project to the creation of next-gen production facilities in Russia.
The plant occupies a 12,000 sq m plot of land and consists of a casting shop (4,000 tons per annum), a machining shop (4 million pieces per annum), laboratories, an engineering design department, and testing grounds. The company's core products are high performance vortex and radial impellers with diffusers for electric submersible pumps used in crude-oil production and liquid transportation systems. Finished products will be marketed domestically (as assembly and replacement parts) and internationally.