Lipetsk SEZ Hit Global Top List for Fourth Consecutive Year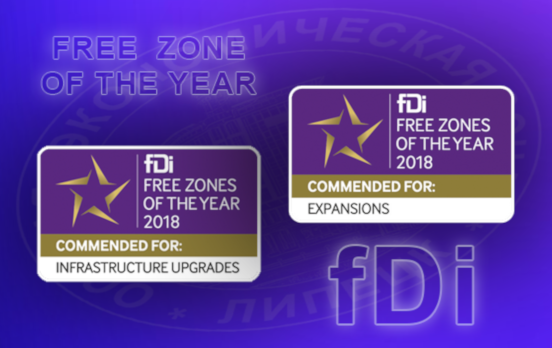 The Lipetsk SEZ Management Company won several Global Free Zones of the Year awards. The global rating of fDi Magazine, a service from the Financial Times, gives assessment of the world's special economic zones.
The Lipetsk SEZ win awards in the Infrastructure Upgrades and Expansions categories.
The Lipetsk SEZ was distinguished for the development of its utility infrastructure. This year the Lipetsk SEZ was the first Russian economic zone to finish implementation of an engineering infrastructure project to ensure sustainable supply of power to its tenants at the site in the Gryazi district. The project included construction of roads, communications, sewerage, storm drainage, power, water, gas and heat supply networks which improved access to the site and increased its infrastructural capacity. Optimization and hard work of the expert team made it possible to reduce costs of infrastructural development from RUB 20.42 billion down to RUB 14 billion. Savings in budgetary funds allocated for the expansion of SEZ infrastructure totaled RUB 6.42 billion. The Lipetsk SEZ Management Company spent over RUB 600 million in its own funds on new infrastructure.
Last year it also constructed a new 220 kV substation with a capacity of 267 MW. Federal authorities invested RUB 2.415 billion into its construction. The new substation features cutting edge power equipment and advanced technologies and meets the strictest safety requirements. The surplus capacity of the 220 kV transformer substation provides an opportunity for further development and satisfies a constantly growing power demand, offering favorable environment for investment projects delivered by SEZ tenants.

In 2018, the Lipetsk SEZ Management Company built the grid control center to improve efficiency of infrastructure management and quality of technical services provided to the tenants. The operators of the grid control center are responsible for monitoring and remote operation of the utility systems around the clock, and processing of applications for maintenance and connection to the grid. The grid control center will improve accuracy of consumption metering and collect necessary data for the power system efficiency analysis. The investments totaled nearly RUB 13 million.
Strong support from the Management Company and extensive infrastructure contribute to expansion of the tenants' investment projects. For instance, OBO Bettermann, ALU-PRO and Bekaert are investing in the construction of new production facilities.
Currently, the Lipetsk SEZ hosts 57 companies from 16 countries (Japan, Italy. Belgium, Germany, Austria, the USA, China, Israel, Switzerland, Netherlands, Ukraine, South Korea, Poland, Singapore, France and Russia). Among them are АВВ (Switzerland), Schlumberger (an international company), Honeywell (USA), Viessmann (Germany), Yokohama (Japan), PPG (USA), Bekaert (Belgium), etc.
Lipetsk SEZ tenants in numbers:
• RUB 188 billion in planned investments
• RUB 59 billion in investments actually made
• 4,000 new jobs
• RUB 78 billion in products
• RUB 11 billion in taxes and customs duties.